What does art have to do with humanism? Everything!
Since the dawn of time, and across all cultures, art has been a core part of human expression — from the earliest cave paintings and body painting.
Art can be art for its own sake. At the same time, it can be an effective tool to influence public opinion and make your voice heard. As such, art bears relevance for the overall theme of this World Humanist Congress (WHC23): Building better democracies with humanist values.
The fundamental human right to freedom of expression is essential to democracy. It is not limited to the written and spoken word, but must encourage all forms of human expression.
The art programme at WHC23, created by Artist in Residence Victoria Gugenheim, was thematically centered around Protect Humanists at Risk, an always-ongoing campaign by Humanists International, as well as focus for fund-raising.
Terror, Trauma, Transformation
The curated exhibition "Terror, Trauma, Transformation" took visitors on a journey of someone leaving oppressive religion. The first phase, Terror, showed the great need for support for Humanists at Risk around the world. It also presented a wall of photos of activists ("artivists") from the Council of Ex-Muslims in Britain (CEMB). Many are refugees living with death threats and rejected by their families. With bodypaint, they courageously participate in Pride and other demonstrations with provocative and humourous messages such as "I am a dead kafir", "Celebrate blasphemy", "Allah is gay" and islamic dictators painted in rainbow colours. At one Pride parade in London, CEMB participants were bodypainted as black burkas crying rainbow tears.
As a double irony, the organisers of Pride London once banned CEMB from participating after having received complaints from the East London Mosque; a mosque which had previously condoned stoning gays to death. It took the Pride organisers several months to lift this ridiculous ban.
Trauma, the exhibition's second phase, displayed "stoic abstracts"; original anoetic art pieces created by Gugenheim at a time when she was processing traumatic events herself. This shows how art can work as a healing method in situations when it's otherwise easy to fall into destructive behaviour. The artist generously gave half of all art sales to Humanists at Risk.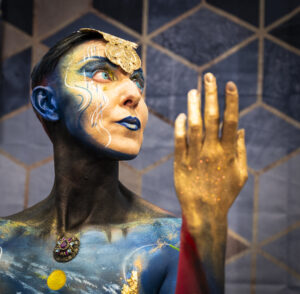 Live performance art
Transformation, the final phase, was a ten hour long live bodypainting, manifesting how somebody having survived religious terror and trauma can transform to find a new life. The analogy can be extended to society and humankind as a whole. Among many motifs, the painted body celebrated Mahsa Jini Amini, a 22-year old Iranian woman who was beaten to death in 2022 by Iran's islamic morality police for not wearing the headscarf. Her murder sparked the still ongoing Woman Life Freedom revolution. The bodypaint model (Anna Bergström, Humanists Sweden) made a grand entrance live on stage on Saturday's gala dinner, with Gugenheim performing a fiery recital of her own "For Mahsa" poem.
Participatory art
Connected to Transformation was a large white canvas with paint brushes for congress participants to make their mark. The canvas quickly filled with uplifting messages and illustrations.
Film premiere
WHC23 was also the official world premiere of The Art of Resistance, a documentary film showing the "artivist" approach to freedom of expression by ex-muslim campaigner Maryam Namazie and Victoria Gugenheim.
The documentary revealed surprising attempts by supposedly neutral UK institutions to block freedom of expression. These attempts to silence ex-muslims put the spotlight on an absurd argument that is all too commonly heard in the debate: criticism of murderous religious persecution is considered more distressing than the persecution itself! Such nonsense reasoning must be opposed by humanists.
Canary in the coal mine
Victoria Gugenheim also gave an inspirational talk for one of the WHC23 discussion panels: "Canary in the coal mine — art as an indicator of freedom of expression". The spirited panel also included Lusine Djanyan from Pussy Riot and Ivor Stodolsky who leads Artists at Risk.
As a final send-off, many of the 400 participants from 40 countries gathered outside the venue for a group photo, with the letter "H" painted on their hands. Raise your hands for Humanism!
Magnus Timmerby
Photos: Pavel N. Storozhuk